Breaking Ground: A Celebration of Two First-Time Homebuyers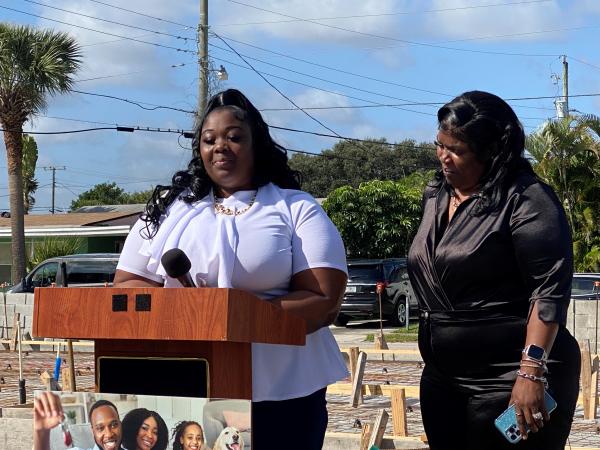 On behalf of the entire staff on Community Partners of South Florida (CPSFL), I'm thrilled to congratulate Ms. Adrian Bedford and Ms. Tabbatha Durden-Weathersbee on the groundbreaking of their new homes. Our organization was truly honored to play a vital role in their journeys as first-time homeowners.

We believe that the strength of a neighborhood comes from the residents who live there. This resident-led approach of CPSFL is essential to neighborhood revitalization throughout our entire county. 

Riviera Beach homeowners like Ms. Bedford and Ms. Durden-Weathersbee will lead their families forward. Ongoing community collaboration and commitment from our partners will continue to support their efforts. 
We assisted Ms. Bedford and Ms. Durden-Weathersbee in their journeys in several ways. First, CPSFL partnered with the Riviera Beach Community Development Corporation to offer the Riviera Beach Homebuyers' Club and the West Palm Beach Homebuyer's Club. Both women were members of the Clubs at different times during the past two years.

Ms. Bedford said she first learned about our services at BRIDGES of Riviera Beach. "CPSFL assisted me by letting me know what it would take to own my home. They had homeowner courses, coaches, and knowledge of outside programs that could help with additional funds to go toward my home," she says. 

Ms. Durden-Weathersbee heard about CPSFL by word of mouth in Riviera Beach. "After I registered with CPSFL, I began to build my credit. I learned about the dos and don'ts of budgeting and which documents I needed at what times to keep things on track, so I didn't fall behind," says Durden-Weathersbee.  

Staff members Odessa Walker, CPSFL housing program manager, and Ludie Celucien, CPSFL financial coach, worked with the women to get their first mortgages and gap financing. Ms. Bedford worked directly with Odessa, and Ms. Durden-Weathersbee worked directly with Ludie. Both women said they are grateful for the help of their CPSFL housing professionals and credit them for their continued encouragement.

Odessa shares that she began working with Ms. Bedford in June 2020 when she was referred by the RISE Community and participated in the WPB Homebuyer's Club. At that time, she was unemployed due to COVID-19 but very eager to pursue homeownership. She is very proud to see how she persevered.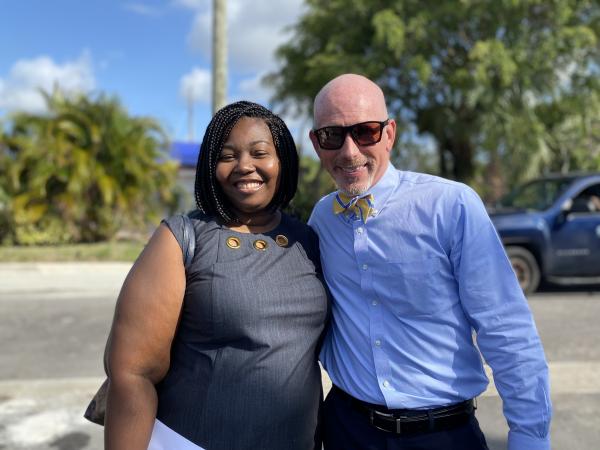 "Adrian worked very hard, going from no job to securing two jobs, as well as attending school. She is making all the right steps towards securing a stable environment for her family. I'm looking forward to closing day and watching Adrian's dream of owning a newly constructed home become a reality," says Odessa adding that it's been a pleasure working with Mr. Bedford on her journey to homeownership.
The groundbreaking ceremony was held on Friday, February 18th, at 10 a.m. at 1253 W. 24th Street in Riviera Beach. The day began with a continental breakfast. Several of CPSFL's leadership team, board, and staff members were in attendance to enjoy the exciting celebration. Many councilpersons and district representatives also spoke at the morning event.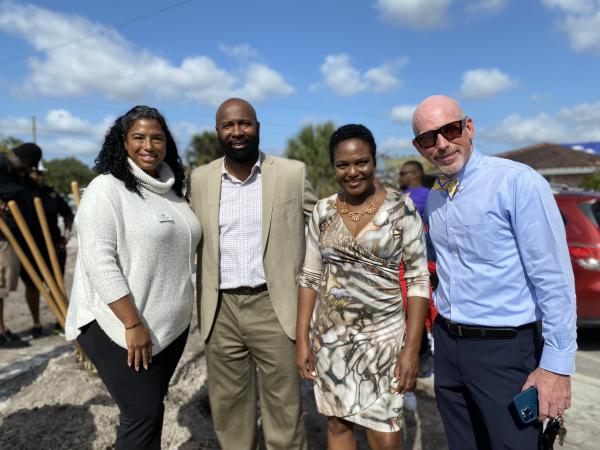 To help bring the dreams of these two families to light, CPSFL collaborated with The Palm Beach County Board of Commissioners, The City of Riviera Beach, ASC Development Group, All-Site Construction, and Mr. Ezra Saffold, Valley Bank, Synovus Bank, Riviera Beach Community Development Corporation, and Riviera Beach Renaissance.

Both women are grateful. They say that following the plans and advice that Odessa and Ludie provided combined with their hard work paid off. They are overwhelmed with joy. The foundations have been poured, and construction is well underway, with hopes that they'll be getting keys in the next few months.

Regarding advice for others, Durden-Weathersbee says never to give up. "Stay focused. Never think homeownership is not a possibility. Good things come to those who wait," she says.

"Homeownership is the best way to go. Link with organizations with the knowledge and skills to get you into a home. Work hard, save money, and build your credit!" says Bedford, adding that every morning she looks at a Zig Ziglar quote, which reads, "Put all excuses aside and remember: You are capable!"

Congratulations, Adrian, and Tabbatha, on this remarkable story of vision, perseverance, and partnership!

For more info on our housing services, visit cp-cto.org/homeownership. Feel free to email me, Lynda Charles, at lcharles@cp-cto.org or call at 561.841.3500 ext. 1014 if you have additional questions.
 
Get Involved:
Volunteer Your Time
Join a Committee or Advisory Group
Spread the Word on Social Media
Work or Intern for CPSFL
Sign up for our newsletter and more updates here.