Community Partners of South Florida (CPSFL) is proud to be an AmeriCorps VISTA (Volunteers in Service to America) sponsoring organization. As a nonprofit, we passed an extensive national and state application process that now allows us to bring talented, passionate volunteers on board to work on projects that expand the capacity of our organization.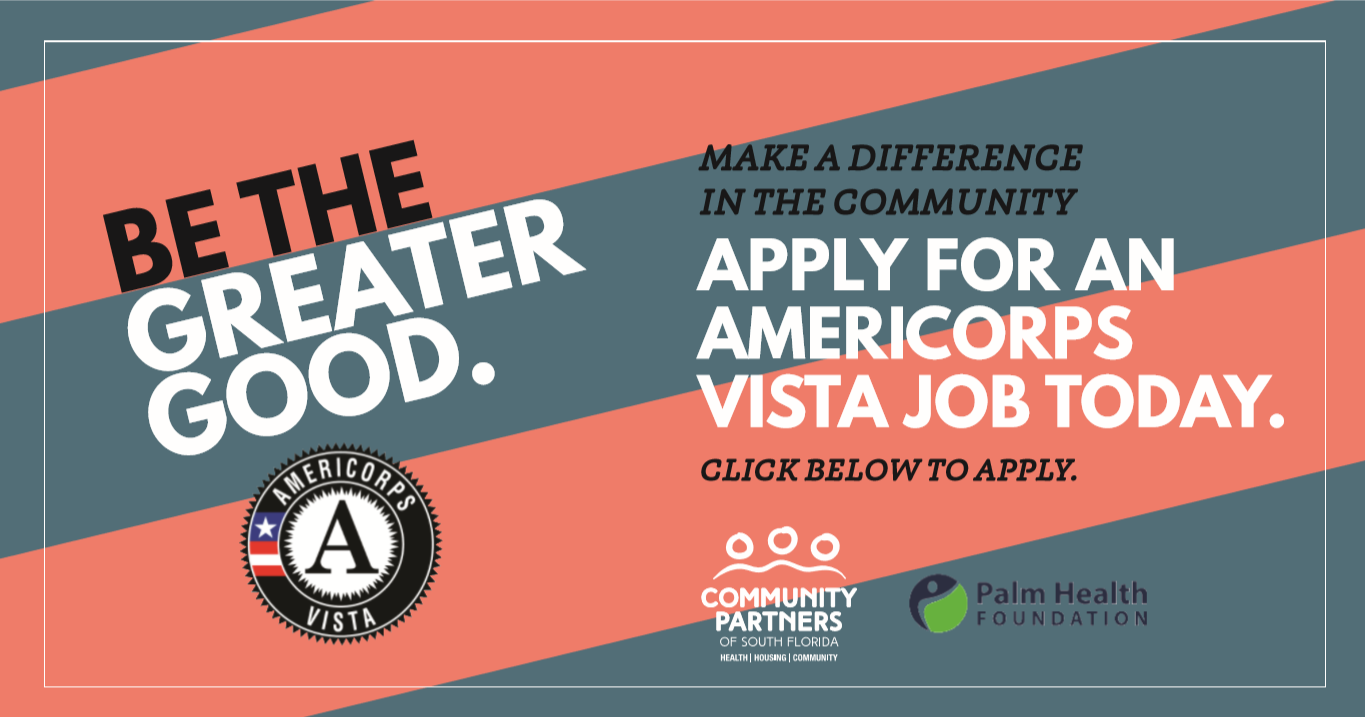 AmeriCorps VISTA members have been bringing passion and perseverance to organizations that help eradicate poverty on a national basis since 1965. AmeriCorps VISTA members serve as a catalyst for change, living and working alongside community members to meet our nation's most pressing challenges and advancing local solutions. By joining the nearly 8000 national AmeriCorps VISTA members who commit annually, you'll be making a tangible difference for individuals dealing with challenges such as poverty, inequity, homelessness, and lack of access to education. 
AmeriCorps VISTA members help to build the capacity of our organization by serving in a project identified and managed by our Palm Beach County community while earning a modest bi-weekly living allowance. Other benefits include relocation assistance, healthcare, childcare, professional development training, federal non-competitive eligibility (NCE), and an end-of-service award of either a Segal Education Award ($6,095) to pay for a range of educational expenses or a cash stipend ($1,800). 
For more information, watch this short video: https://youtu.be/QgdRkzLKlPM.
Be 18 years or older (no upper age limit)
Pass a national service criminal history check
Hold one of the following citizenship or legal residency statuses: U.S. Citizen, U.S. National, Lawful Permanent Resident (i.e. Green Card status), or persons legally residing within a state as a refugee, an asylee, an individual with temporary protected status throughout VISTA service, or a person holding Deferred Action for Childhood Arrivals (DACA) status.
Click on one of the links below to learn more and apply for a specific position: 
Community Engagement VISTA ~FILLED
Organization & Procedural Management VISTA ~FILLED
Social Media, Marketing, & Communications VISTA ~FILLED
SOFI Infrastructure & Sustainability VISTA ~FILLED